3/26/21 Recommended Issues: Mind's Eye, NYT Front Page, ETrade & eToro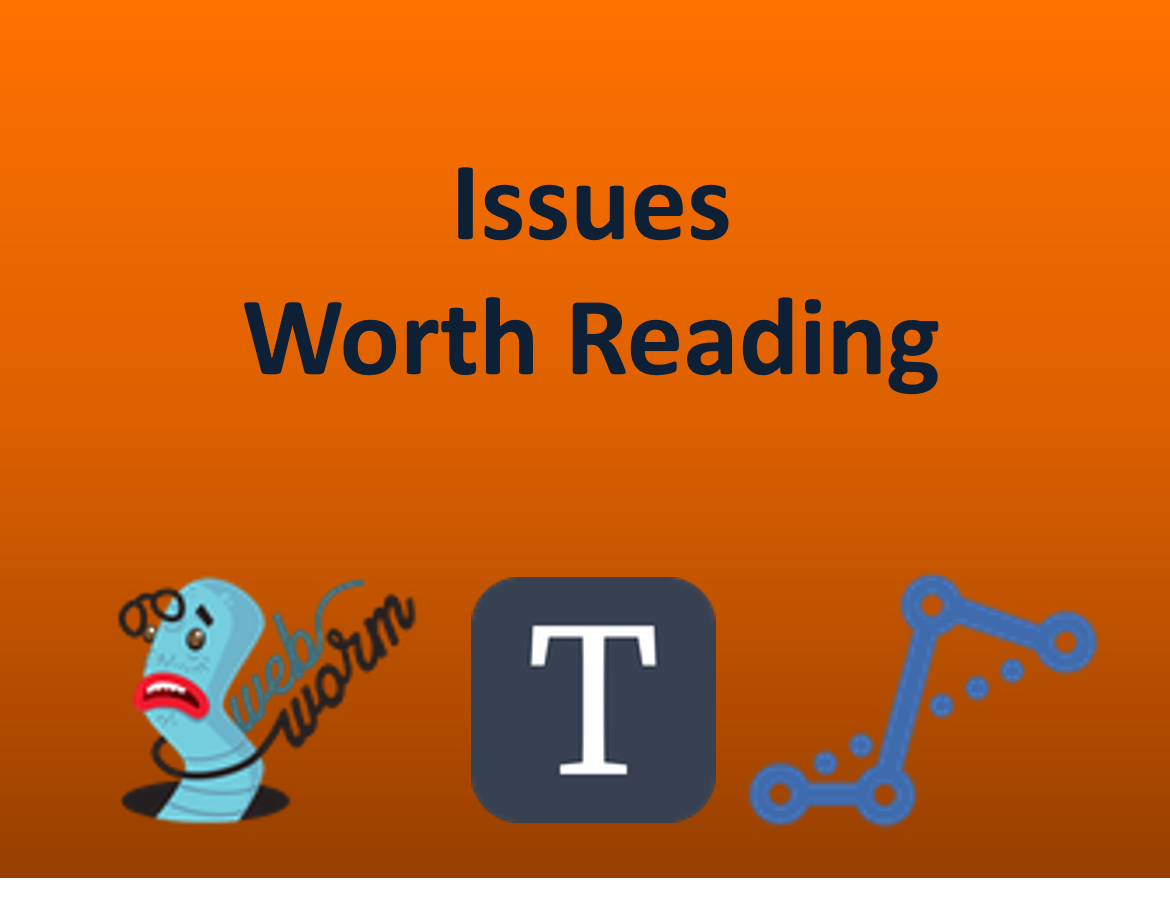 Good day!

Each week we handpick newsletter issues by independent writers you may have missed that provide new or unique perspectives.

If you read last week's and would like to subscribe or leave a review of any of the highlighted newsletters, you can do that here: Tedium, Now I know, and Why is this Interesting?. The narrowSCALE community really appreciates it!

Also, if someone forwarded you this and you'd like to subscribe, you can do that here -- thanks!)

Here's what's worth reading this week...enjoy!
---
WHAT'S REALLY ON THE FRONT PAGE OF A NEWSPAPER?
Tracking the front page of the New York Times in TJCX by Tom Cleveland on Mar 23
As traditional newspapers (New York Times, Wall Street Journal, etc) moved to having digital front pages with content that can be changed in real time, have you ever paused to ponder how often the articles are updated, how long they remain up on the front page for, or what type of content (fluff vs. real new stories; opinion vs. fact, etc) is pushed most to the front page? In this issue, Tom goes deep on an analysis of these types of questions for the New York Times-- and arrives at some interesting results that may make you reconsider how you "read news" from traditional sites. (1853 words; 6.75 minutes) Read it...

NO MIND'S EYE!?
When your mind's eye is firmly shut in Webworm with David Farrier on Mar 20
Many people haven't heard of "aphantasia" (me included), which is the "inability to visualise mental images" (ie to have a mind's eye) and was only officially discovered six years ago (!). This issue gives a first hand experience of someone discovering they have aphantasia (at age 31!) and what they experience in life since they're not able to recall sounds, smell, sensations of touch, or visual images -- as well as how aphantasia was "discovered". It's a fascinating read and will definitely make you contemplate how much you take for granted about being able to visually imagine things or recreate things in your mind... (1273 words; 4.5 minutes... Skip the intro, scroll down, and start at the part by Kate McCarten) Read it...

ETRADE to ETORO
Party Like It's 1999: From ETrade to eToro in Net Interest by Marc Rubinstein on Mar 19
This issue offers a neat, well-structured overview of how stock trading moved online in the 80s/90s, how ETrade rose above a lot of the pack (for a while), how the business model for online trading has been changing over the years, what the company eToro is (it's like "an investment/trading platform meets Instagram", where you can copy and follow the investments of others) and how eToro is evolving. This shift from an individual investment approach offered by ETrade, to a more social, status-driven strategy offered by eToro is super intriguing, as is the difference in the two companies' valuations even at ETrade's peak. The issue is long, but definitely offers a lot to learn from the past and to consider for the future… (3456 words; 12.5 minutes) Read it...
Some interesting facts from newsletters this week:
The number of online brokerages increased from around 12 in 1994 to over 120 in 1999. Net Interest Mar 19
Around 40% of domestic salt (which is produced largely from mining), is used for deicing (not for food, not for chemical production...no no no. For melting ice!!!). Minnesota, just on its own for the 2020 winter season, purchased ~1.5 million tons of salt. WOW. BIG Mar 15
Imagine that! Aphantasia is the inability to visualise mental images....and most people who have aphantasia are also unable to recall sounds, smell or sensations of touch. And even more interestingly, it was only officially ""discovered"" 6 years ago!" Webworm Mar 20
Voila! The name of the Old Navy clothing store came from the name of a bar in Paris! (for more on why/how Old Navy was started, scroll down to the last part of this newsletter and it's a fun quick read!) Why is this Interesting Mar 22
In 2019 in Europe, 5x more E-bikes were sold in Europe than electric cars. Perhaps 2 wheels are better than four? (or at least cheaper :)) Exponential View Mar 18
Quacked me up...Donald Duck's nephews (known in the US as Huey, Dewey, and Louie), have different names all around the world, like "Kwik, Kwek, Kwak" and "Hyzio, Dyzio, Zyzio". This is a fun map of their names in different European countries... Exponential View Mar 18
Who's in Clubhouse these days?... Kuwait has the most active Clubhouse users in the Gulf, while Oman has recently blocked the app. Riyadh Bureau Mar 19
10% of NYT articles on the "front page" (digital), stay there for less than an hour! Median article lasted 9.5 hours. TJCX Mar 23
Feel free to forward to a friend if you've learned something worthwhile!

And if you're looking for any specific newsletters to read, you can always email me or explore narrowSCALE.

Also, if you're not subscribed to THIS newsletter yet, please subscribe here :)!
Best,
~Jessica