10/16/20 Recommended Issues: Venusian Rocks, Sports TV, Magic: The Gathering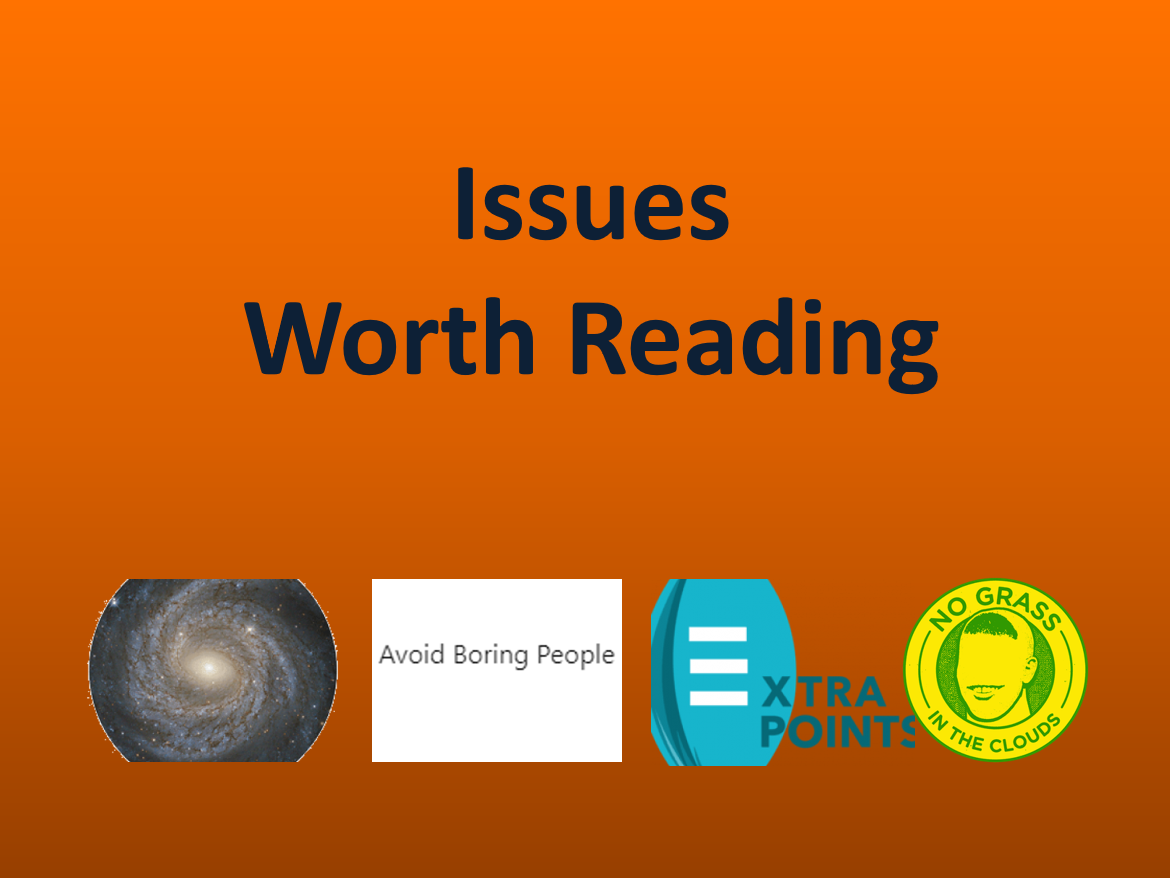 Good day!

Each week we handpick newsletter issues by independent writers you may have missed that provide new or unique perspectives.

If you read last week's and would like to subscribe or leave a review of any of the highlighted newsletters, you can do that here: Simon Owens's Tech and Media Newsletter , Understandably and FLOW STATE. The narrowSCALE community really appreciates it!

Also, if someone forwarded you this and you'd like to subscribe, you can do that here -- thanks!)

Here's what's worth reading this week...enjoy!
---
VENUSIAN ROCKS ON THE MOON ?!?!
BAN #261: Podcast interviews on mistakes and dinosaurs, Bits of Venus on the Moon in Bad Astronomy Newsletter, by Phil Plait on 10/12
The solar system never ceases to amaze. In this issue Phil discusses how we might be able to collect and study rocks from Venus, without going to Venus… which is fairly mind-blowing. He gives a very easy-to-follow explanation about how our own moon (yes, Earth's moon!) is likely to have rocks from Venus (as well as rocks from Earth!). It's worth a read just to learn more about the power of the universe and how it works. (It's the second chunk of his newsletter) (1310 words; 5 minutes) Read it...

PLUMMETING SPORTS VIEWERSHIP
Should YOU care about the fact that TV ratings are down? In Extra Points, by Matt Brown on 10/15
Since Covid-19 started, people are watching significantly less sports TV ... like 56% fewer people watched the US Open Golf Finals, 49% fewer watched the NBA Finals, 30% fewer watched the regular College Football Season, etc. Matt delves into the details of the data (which is pretty eye-opening if you're into numbers at all!) and offers ideas both about why and what the impact might be for the future. It's worth reading to have a better understanding of the cultural shifts that are happening around sports and to ponder what it might mean for post-covid. (1155 words; 4 minutes) Read it...

UNDERSTANDING MAGIC: THE GATHERING… AND... THE PREMIER LEAGUE
Magic: The Gathering and Metagaming, in Avoid Boring People by Leon Lin on 10/14
The Beginners Guide to the Premier League in No Grass in the Clouds by Ryan O'Hanlon on 10/13
Both of these issues offer deep insight into their (wildly different) subject matter…

The issue on Magic: The Gathering is quite unique in that you may not know much about the game or have any interest in ever playing -- BUT -- it's fascinating to learn about how the game as evolved as a business, the secondary market around the game, and the fine line the game makers need to walk to both grow their business but also to not screw up the ecosystem around it. The game makers have recently ruffled some feathers, which Leon explains...and it will provoke you to decide for yourself if you think they're making the right decisions as well as what the outcomes could be. The psychology and economics of the whole thing is just super intriguing. (2362 words; 8.5 minutes ) Read it...

If you've ever had an interest in learning about the Premier League, like to really understand it, how it works, and why, etc, this issue offers a well structured explanation that will set you happily and knowledgably on your way. It's thorough and you'll actually get it. Clearly this issue is not for you if you have zero interest in the Premier League… but if you've ever wanted to get into it, and just didn't know how to start, this read will not disappoint! (3629 words; 13 minutes) Read it...

A few random facts I learned this week from reading newsletters:
I hope you found the above intriguing and thought-provoking! You can always subscribe to any of the newsletters (or discover others!) on narrowSCALE.
I'd also love feedback... how was this issue?
If you're not subscribed to THIS newsletter yet, please subscribe here :)!
Thanks and all the best,
~Jessica